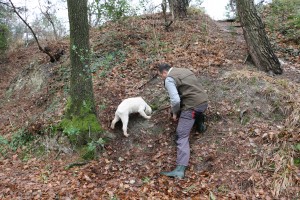 The truffle is from over 2000 years the uncontested king of the Italian and International cuisine.
He is a fruit of the earth, it belongs to the category of the mushrooms and it grows underground.
The development asks for special conditions. The truffle doesn't like dry land, it requires certain salts and it prefers clayey-calcareous soil containing silica. It is usually found at a depth of 10-35 cm.
Truffles develop in symbiosis with many types of trees: oak, poplar, lime and willow.
The most highly-prized is the oak truffle.
Nine kinds and variety of truffles are recognized by the law no. 752 of 16th dicember 1985:
TRUFFLE bianco pregiato
TRUFFLE nero pregiato
TRUFFLE bianchetto
TRUFFLE nero d'inverno
TRUFFLE moscato
TRUFFLE nero d'estate
TRUFFLE uncinato
TRUFFLE nero ordinario
TRUFFLE nero liscio
The characteristics of the LAGOTTO ROMAGNOLO make this race ideal for truffle hunting. The LAGOTTO has completely lost the instinct for the chase, so it's exclusively concentradet for the search.
The medium-small size, the resistance to the work and the natural attitude for the hunting, make of the LAGOTTO the ideal companion for the work.